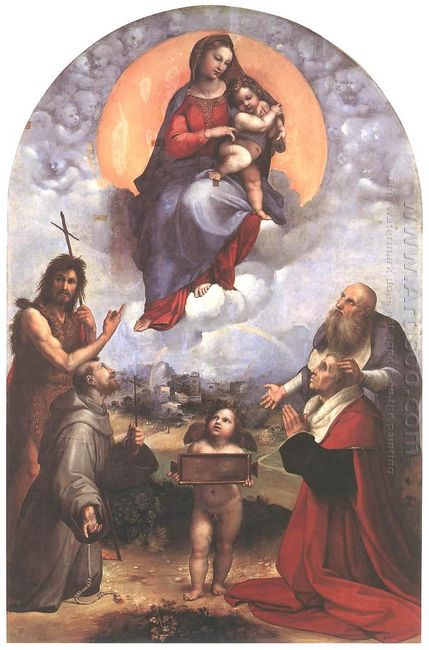 The Madonna of Foligno was painted between 1511 and 1512 by Rafael, size: 330 x 194 cm
This painting was made during Raphael's most passionate stage of his short and splendid life which was equivalent to his great attempt for Vatican Palace murals. It was ordered by St. Kandy who was the secretary of Pope Giulia II and the humanist. Struck by lightening in Flagon's home, but St. Kandy could survive the fire and customized this painting to Madonna. The worshiper in the right of the painting was St. Kandy, and on the left were Saint Francis and St. John. From the central green hills, St. Kandy's home surrounded by mist could be seen, the rainbow hanging above and the orange ray fireball seemingly falling on the top of his house. The Madonna and child surrounded by the circular light appeared in the sky with monochrome blue angels around. The circular light, rainbow and close shot grasslands corresponded with the upper semicircle curve. Raphael used the crystal-like structure in this monumental work, which was learned from the works of Piero della Francesca and Perugino. Raphael closely combined the characters and the surrounding objects into tight fusion structure.
At this time, Raphael was exposed to the various painting techniques that a lot of artists gradually used in Rome and he found something new from these artists. In this oil painting, the influence of new Venice school, Bellini and Giorgione for Raphael in the color: in the misty landscapes and in the subtle color changes, the characters were much closer and shinning through the warm brown, grey, silver blue, and bright red of skins.