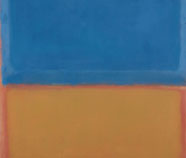 Color field painting is a form of painting that is part of the Abstract Expressionism movement. It became popular in 1950 and remains to be an interesting style of painting to this day.
A color field painting looks like a very simplified work of art, but there is a system to creating it. Color field painting is often compared to action painting, which also belongs to the Abstract Expressionism family. They are similar in a sense that they use the whole canvas as a "field" of vision, without a central point to focus on. But that's where the similarities end. While action paintings are loud and made up of bright but disjointed colors, a color field painting is subtler, with the geometrical patterns clearly identifiable.
A color field painting is characterized by bright, seemingly solid colors that form geometrical shapes. These shapes, however, are not clearly defined. The lines are not necessarily straight all the time. A color field painting maximizes the canvas and makes use of its flatness. In fact, this method is what the whole style is about. It's really just a painting with different sizes of rectangles or planes painted in varying colors to evoke emotions.
The emotions evoked from a color field painting come from the interaction of the shapes and the colors. The shapes interact to form blurry shapes, adding to the overall feel and tension. This type of painting usually does not have a distinct image or background. The foreground and background somehow merge together to form a whole.
Color field paintings are usually very large, to connote a feeling of vastness. When you zoom in on a color field painting, it will appear like you are looking out into the vast ocean or a large expanse of fields. The combination of the large canvas, the unidentifiable elements, and the bright colors, gives the viewer strong sensations, making them a part of the painting. They make use of the canvas to evoke an emotion, and those who view the artwork can feel this.
Artists such as Kenneth Noland, Jules Olitski, Mark Rothko, Paul Jenkins, and Clyfford Still have created great pieces of color field painting. These artists often use traditional paintbrushes, but also use airbrushes to achieve a particular look and style.
If you are interested in purchasing a color field painting, you should find the painting that evokes the perfect emotion in you. Some can be calming while other can be even more emotional or intense. It is really up to you on which painting you want to own.
Read More