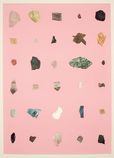 Damien Hirst (British, b.1965) is one of the leaders of the Young British Artists - a group of contemporary British artists such as, amongst others, Fiona Rae, Liam Gillick, Sarah Lucas, Ian Davenport, Michael Landy - the winner of the 1995 Turner Prize, and, as of 2009, the wealthiest artist in history. He rose to fame after the success of two warehouse shows he organized featuring his friends' and his own work; at his second show, advertising executive Charles Saatchi purchased Hirst's A Thousand Years, which features a glass case enclosing a rotting head of a cow swarmed with flies. Saatchi promoted Hirst and the Young British Artists for several years, until the relationship ended in 2003.
Dead animals are frequently used in Hirst's installations, forcing viewers to consider their own and society's attitudes to death. Containers such as aquariums and vitrines are used as devices to impose control on the fragile subject-matter contained within them and as barriers between the viewer and the viewed. The animals are preserved as in life, but at the same time are emphatically dead, with their entrails and flesh exposed.
Hirst's paintings can be seen as a foil to his sculptural work, though they are similarly inconclusive. The 'spot' paintings are named after pharmaceutical stimulants and narcotics, the chemical enhancers of human emotion, and yet take the form of mechanical and unemotional Minimalist paintings. Their detachment is further emphasised by the exploitation of procedures that can be simply carried out by assistants under his instruction. Hirst's interest in contemporary society is further reflected in collaborative pop music projects and in his designs for the Pharmacy and Quo Vadis restaurants, London. He was awarded the Turner Prize in 1995.
Read More