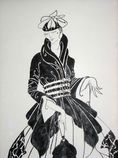 Erte is considered one of the most influential artists of the twentieth century. His art is not only appreciated for its impressive technical qualities, but he is also considered the father of the art deco movement that defined the 1920s and 30s art scene around the world.
Raised as a child of the social elite, "Erte" (given name, Romain de Tirtoff) moved to France at the age of 18 to work in the world's center of art and fashion. Beginning his career under Paul Poiret, the most respected couturier in Paris at the time, Erte went on to work for Harper's Bazaar for twenty-two years where he created more than 240 magazine covers.
His reputation earned him the patronage of Mata Hari, Pavlova and Mrs. William Randolph Hearst, as he became a major contributor to the fashions of the twentieth century. He began his work with the fine print media in the 1970's, publishing more than 180 of his designs through the Circle Fine Art Corporation and then numerous lithographs and serigraphs commissioned by various publishers. In 1979, the Smithsonian Institution organized a retrospective of his work, which traveled to major museums across the U.S. and Canada.
Erte has often been called the "Father of Art Deco," the style that came into vogue internationally in the 1920's. Erte defined it as the fusion of the curvilinear designs of Art Nouveau of the 19th Century with the Cubist, Constructivist, and geometrical designs of modernity. He was also influenced by Persian miniatures and would often use a brush with a single hair to complete his gouache paintings. His imagination was limitless, and Erte designed costumes, stage sets, jewelry, objet d'art, sculpture and ceramics.
Unlike many artists who work freely before a canvas or sketchpad, Erte developed his own unique process: he would visualize the entire work of art in his mind until it was completed to every detail, and then create the work from his "mind's eye." At the time of his death at the age of 98, he was considered one of the most influential artists of the 20th century.
Read More