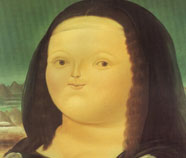 Fernando Botero is celebrated for his painted and sculpted scenes featuring animals and figures with inflated proportions, reflecting the artist's predilection for satire, caricature, and political commentary in his work.
Fernando Botero was born in Medellin, in the Colombian Andes, on April 19, 1932. His parents, David and Flora Angulo de Botero, had been raised in the remote highlands of the Andes. His father, a traveling salesman who journeyed on horseback to outlying areas of the city, died when Botero was four, and his mother supported the family as a seamstress.
The second of three boys, Botero attended a Jesuit secondary school on a scholarship starting at age 12. His uncle also enrolled him in matador school, which he attended for two years, and the images in his first drawings come from the world of bullfighting (a watercolor of a matador is his first known work). Until he discovered a book of modern art at the age of 15 he "didn't even know this thing called art existed," he says.
In 1948 Botero decided he wanted to become an artist and first exhibited his work in a joint show in his native town. He began working at El Colombiano, Medellin's leading newspaper, illustrating the Sunday magazine. At this time a period of civil unrest began in Colombia, and there was a low tolerance for nonconformity and radicalism. Some of Botero's teachers began to express disapproval of his work, and he received several warnings about nudity in his newspaper illustrations. In response he published an article called "Picasso and Nonconformity in Art" and was subsequently expelled from the school. He completed his secondary education at the Liceo de la Universidad de Antioquia in Medellin, graduating in 1950, and continued to publish articles on modern art.
In Madrid, Botero studied at the Academia de San Fernando. In 1952, he traveled to Bogota, where he had a personal exhibit at the Leo Matiz gallery. Later that year, he won the ninth edition of the Salon de Artistas Colombianos.
In 1953, Botero moved to Paris, where he spent most of his time in the Louvre. He lived in Florence, Italy from 1953 to 1954, studying the works of Renaissance masters.
Botero's work includes still-lifes and landscapes, but Botero tends to primarily focus on situational portraiture. His paintings and sculptures are united by their proportionally exaggerated, or "fat" figures, as he once referred to them. Botero explains his use of these "large people", as they are often called by critics, or obese figures and forms thus:
"An artist is attracted to certain kinds of form without knowing why. You adopt a position intuitively; only later do you attempt to rationalize or even justify it."
Botero is an abstract artist in the most fundamental sense of the word, choosing what colors, shapes, and proportions to use based on intuitive aesthetic thinking. Though he currently spends only one month a year in Colombia, he considers himself the "most Colombian artist living" due to his insulation from the international trends of the art world.
Botero gained considerable attention in 2005 for his Abu Ghraib collection, which began as an idea he had on a plane, finally culminating in more than 85 paintings and 100 drawings. The Circus collection followed in 2008, with 20 works of oil and watercolor. In an interview promoting his Circus collection, Botero said: "After all this, I always return to the simplest things: still-lifes.
Today Botero's works are still exhibited in numerous international museums and exhibitions. Fernando Botero lives and works in New York and Paris.
Read More