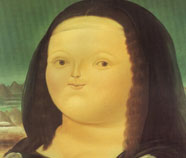 Fernando has a very unique style of oil paintings that gained him fame, but also faced opposition in the time that he was alive. He is most noted for his paintings that involved a variety of different animals and humans that were disproportionate, featuring a variety of different inflations of body parts or comedic paintings that were meant to take a stance on society or politics. Although his paintings were meant directly to have a comedic effect, many people took his style of art and the subjects that he painted on much more seriously than he had first imagined, leading to a variety of differing opinions about his work. Overall, the Fernando Botero Paintings are about societal and political opinions, but feature a very evolved style of art that warps the perspective that many people have of the current governmental system and the societal standpoints that many people take.
Fernando Botero was born on April 19, 1932 in the Colombian Andes. Here, he lived for many years until he was accepted on scholarship to a Jesuit secondary school. At this school, he began drawing on the subject of bullfighting, and came upon the idea of painting with oils, which came from his own mind rather than the works of others. It was not until 1948 that the Fernando Botero Paintings became an idea in his head, and at this time he began to show others his work through a variety of different art exhibits. Many of the teachers that Fernando Botero had did not agree with the messages portrayed through his art, and began to discipline him for the paintings that he would complete, but this only fueled the fire that drove the Fernando Botero Paintings. Once Botero graduated in 1950, he began writing articles on modern art as a profession, but kept working on his art style and studying many of the masters of the Renaissance period.
Although meant for satire and humor, the Fernando Botero Paintings have held up to many of the standards that are currently in government today. Although the period of civil unrest in this time was still rampant, Botero worked through the opposition that he faced and continued releasing painting after painting that expressed his ideas. You can own a small piece of the emotions that were so rampant in this time period by simply owning one of the many different Fernando Botero Paintings.
Read More