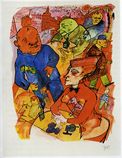 George Grosz was a German painter, draughtsman and illustrator. He is particularly valued for his caustic caricatures, in which he used the reed pen with notable success. Although his paintings are not quite as significant as his graphic art, a number of them are, nonetheless, major works.
Born 26 July 1893 Berlin. He studied at the Dresden and Berlin academies. Contributed to satirical periodicals. Then Came to the Berlin dada movement in 1918. Edited the periodicals "Die Pleite" ("Bankruptcy") together with Wieland Herzfelde; "Jeder sein eigener Fussball" ("Everyman his own Football") with Franz Jung; and "Der blutige Ernst" ("In Bloody Earnest"), with Carl Einstein. On his dada period he wrote in his book "Art In Danger": "Civilian again, I experienced in Berlin the rudimentary beginnings of the dada movement, the start of which coincided with the 'swede' period of malnutrition. The roots of this German dada movement were to be found in the recognition that it was perfectly crazy to believe that the spirit, or anything spiritual ruled the world. Dadaism was the only significant artistic movement in Germany for decades. Dadaism was no artificially fostered movement but an organic product, at its origin a reaction to the cloudlike ramblings of so-called sacred art. Dadaism forced artists to declare openly their position .. . What did the dadaists do? They said that it did not matter whether a man blew a 'raspberry' or recited a sonnet by Petrarca or Shakespeare or Rilke, whether he gilded jack-boot heels or carved statues of the Virgin. Shooting went on regardless, profiteering went on regardless, people would go on starving regardless, lies would always be told regardless what was the good of art anyway? In those days we saw the mad final excrescences of the ruling order of society, and burst out laughing. We did not yet see that there was a system behind all this madness." George Grosz was the most pitiless caricaturist of the German bourgeoisie and of German militarism.
In 1925 he approached that type of realism designated as "new matter-of-factness". In the U. S. A., where he went in 1932, his pictures assumed romantic, idyllic overtones. Looking back on it all, he wrote in his autobiography "A Little Yes And A Big No": "Artistically speaking we were 'dadaists' in those days. If that meant anything it was disquiet, dissatisfaction, a delight in mockery, that had all been fermenting a long time already. Every defeat, every upheaval gives birth to such movements. In another period we might have been flagellants . . . Huelsenbeck imported dada to Berlin, and it assumed immediately political features. The aesthetical side was preserved, but got more and more supplanted by a kind of anarchist-nihilistic politics, chiefly propounded by the writer, Franz Jung."
Read More