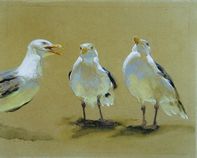 James Browning Wyeth is a contemporary American artist and realist painter. He is the son of renowned artist Andrew Wyeth, and grandson of the famous N.C. Wyeth. Jamie portrays people, landscapes, and animals of the rural Delaware and Pennsylvania area in which he resides. His style comes from a background of working with his father, and also studying his grandfather's works of art. Although he primarily does oil paintings, he is also skilled in drawing, etching, egg tempera, watercolors, and lithography. He has illustrated books, painted portraits of famous American subjects, and many of his works are displayed in American art galleries today.
Jamie, the youngest of two sons, was raised on his parents' farm called The Mill, in Chadds Ford, Pennsylvania. He attended public school for six years, and was then privately tutored by members of his family. The focus of his private education was in art, and at age 12, he studied art intensely with Carolyn Wyeth, Jamie's aunt and a well-known artist. His home environment was filled with art work and props, used by his grandfather N.C. Wyeth. Jamie was exposed to art works of his father Andrew, numerous art books, art exhibitions, art collectors, and art historians.
In the early 1960′s, Jamie painted with his father, who was his friend, and his most-admired painter. In 1965, Jamie traveled to New York City, seeking new and different artistic resources. He also wanted to learn about and draw the human body, and studied human anatomy at a morgue. Jamie was very much like his grandfather in the respect that he wanted to experience first-hand, what subjects looked like, or how they worked, before drawing or painting them.
In 1968, Jamie married Phyllis Mills, of the prominent duPont family. Phyllis, a subject of many of Jamie's paintings, had been crippled in an earlier car accident, and used crutches and a motorized chair to get around. From 1966-1971, Jamie served in the Delaware Air National Guard, and also bought his parents' lighthouse home, Tenants Harbor Light, in southern Maine, which provided him solitude, and the subject matter that he enjoyed most.
In 1971, Wyeth was commissioned by Harper's Magazine to be one of the court artists for the Watergate trials and congressional hearings, and was a participant in NASA's Eyewitness to Space program during the late '60s and '70s.
Unlike his father's and grandfather's dedication to particular media, Wyeth has been more experimental with his techniques. He has worked in oil on canvas and oil on panel, watercolor on commercially-made paper, watercolor on handmade paper, watercolor on cardboard, and pen and ink on paper, as well as the printmaking techniques of etching and lithography. In addition to oil, he also now works extensively in what he terms "combined mediums" on a variety of supports. "Combined mediums" primarily consists of watercolor and gouache painted with thick impasto layered with selective varnishes, but can include anything, and has even included three dimensional-elements such as 19th-century whale bone letters adhered to paper.
Maine has been a strong influence on Wyeth's work and has been the subject of some of his most experimental and unique paintings. The smooth, almost glassy surface of Bronze Age (1967) was typical of Wyeth's early work. Wyeth painted this image of the fog bell on Manana, which has since been installed on Monhegan Island on Lighthouse Hill, shortly before he purchased a house on Monhegan. Although he spent summers in Maine with his parents and older brother Nicholas during his youth, it was after purchasing the house built by artist Rockwell Kent on Lobster Cove that Wyeth began spending significant time painting Monhegan's people and places.
Since moving to Southern Island at the mouth of Tenants Harbor in the early 1990s, Wyeth has spent more and more time painting in Maine. The isolation of the island has allowed him to focus with less distraction.
Read More