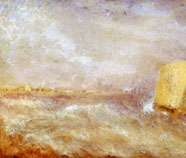 Joseph William Turner was renowned for his oil paintings. An English Romantic landscape painter, he was considered a controversial figure in his day, but is now regarded as the artist who elevated landscape painting.
Turner was born in Maiden Lane, Covent Garden, London, England. His father, William Gay Turner (27 January 1738 - 7 August 1829), was a barber and wig maker. His mother, Mary Marshall, became increasingly mentally unstable, perhaps, in part, due to the early death of Turner's younger sister, Helen Turner, in 1786. She died in 1804, after having been committed to a mental asylum in 1799.
Possibly due to the load placed on the family by these problems, the young Turner was sent to stay with his uncle on his mother's side in Brentford in 1785, which was then a small town west of London on the banks of the River Thames. It was here that he first expressed an interest in painting. A year later he went to school in Margate on the north-east Kent coast. By this time he had created many drawings, which his father exhibited in his shop window.
He entered the Royal Academy of Art schools in 1789, when he was only 14 years old, and was accepted into the academy a year later. Sir Joshua Reynolds, president of the Royal Academy at the time, chaired the panel that admitted him. At first Turner showed a keen interest in architecture but was advised to keep to painting by the architect Thomas Hardwick (junior). A water color of Turner's was accepted for the Summer Exhibition of 1790 after only one year's study. He exhibited his first oil painting in 1796, Fishermen at Sea, and thereafter exhibited at the academy nearly every year for the rest of his life.
Although renowned for his oils, Turner is also one of the greatest masters of British water color landscape painting. He is commonly known as "the painter of light". One of his most famous oil paintings is The fighting Temeraire tugged to her last berth to be broken up, painted in 1838, which hangs in the National Gallery, London. Turner travelled widely in Europe, starting with France and Switzerland in 1802 and studying in the Louvre in Paris in the same year. He also made many visits to Venice. On a visit to Lyme Regis, in Dorset, England, he painted a stormy scene (now in the Cincinnati Art Museum).
Important support for his works also came from Walteramsden Fawkes, of Farnley Hall, near Otley in Yorkshire, who became a close friend of the artist. Turner first visited Otley in 1797, aged 22, when commissioned to paint water colors of the area. He was so attracted to Otley and the surrounding area that he returned time and time again. The stormy backdrop of Hannibal Crossing The Alps is reputed to have been inspired by a storm over Otley's Chevin while Turner was staying at Farnley Hall.
Turner was also a frequent guest of George O'Brien Wyndham, 3rd Earl of Egremont at Petworth House in West Sussex and painted scenes from the grounds of the house and of the Sussex countryside, including a view of the Chichester Canal that Egremont funded. Petworth House still displays a number of paintings.
As he grew older, Turner became more eccentric. He had few close friends except for his father, who lived with him for thirty years, eventually working as his studio assistant. His father's death in 1829 had a profound effect on him, and thereafter he was subject to bouts of depression. He never married, although he had two daughters by Sarah Danby, one born in 1801, the other in 1811. In 1850 he exhibited for the last time. One day Turner disappeared from his house. His housekeeper, after a search of many months, found him hiding in a house in Chelsea. He had been ill for a long time. He died the following day--Dec. 19, 1851.
Turner left a large fortune that he hoped would be used to support what he called "decaying artists." His collection of paintings was bequeathed to his country. At his request he was buried in St. Paul's Cathedral.
Read More