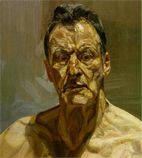 Lucian Freud was born in Berlin on December 8, 1922. Ernst, his father, was an architect and the youngest son of the esteemed Sigmund Freud, one of the central figures in the birth of modernity and in the scientific analysis of internal subjectivity. Living in a non-practicing Jewish family surrounded by bourgeois comforts, Freud's early years were simple and untroubled, with plenty of time for his active imagination to wander freely (see Chimneys on Fire, 1928). When Adolf Hitler was appointedChancellor in 1933, though, Ernst and wifeLucie knew it was time to leave, and the family relocated to an attractive neighborhood in London.
Moving from different prep schools to different art schools,Freud, the self-proclaimed bad boy, learned early on to ride on the coattails of his own talent and lineage. By 1939, after successfully publishing several of his drawings in the progressive magazine Horizon, the 17-year-old Freud was socializing within important British homosexual cliques. These gay peers, including Stephen Spender,Cyril Connolly, and Peter Watson, were the driving forces behind the avant-garde of war-torn London, and Freud began to profess the importance of homosexuality and counter-culturalism in all artistic pursuits. After literally burning his art school to the ground, joining the merchant navy, losing his naval license, getting re-accepted at school, and entertaining the artistic site with surrealist still life paintings and other adolescent wonders, the natural painter's youthful exploration of art culminated in the exquisiteDead Heron of 1945.
With the war over and troubled adolescent years behind him,Freud began his relentless pursuit of the elusive, faithful portrait. He began this pursuit by painting his first wife Kitty(married in 1948) again and again. After his divorce, he continued this search by repeatedly painting his second wife Caroline (married in 1952) and a wide group of painters and friends. The results were always uncomfortable, disconcerting, and suggestive of the existentialcrisis that drove Freud work during the early part of his career. Witness the prize-winning picture for the Festival of Britain, entitled Interior, Paddington (1951). As artist and friend Bruce Bernard describes the piece: "Harry [Diamond] problematic, if not explicitly threatening, figure is ingeniously and incongruously coupled with one of the most memorable potted plants in the history of art, set in the most solid of plant pots, not quite hallucinatory but enhanced to a disturbing degree. Man and pot are both standing on an unforgettable painted carpet, and only in the view from the window, with the waif on the pavement below, is the curious, still tension -- perhaps necessarily -- dissipated." This isFreud at his young best".
In 1956, upon realizing that his solitary portraits needed liberating, Freud began exploring the expressionistic chiaroscuro techniques that would illuminate his figures from novel perspectives. His pursuit of the liberated figure, however, would not be fully realized until Freudbegan in earnest his study of female nude portraiture in 1966. The female nude remains the most powerful and most subversive form in Freud work, and the one on whichFreud would ultimately expend the majority of his creative genius. Whether his subject is a friend, lover, relative, or one of his own three children, Freudseemed to celebrate the naked body as a whole, covered in light and life, without deceit or cunning, just the uncovered honesty of female flesh.
1977 saw Freud turn much of his attention to nude males. While the clothed figure (often with downcast eyes, usually sitting or lying) still dominated much of his work, Freud grew extraordinarily concerned with the realistic male form. Man with Rat of 1977 initiated a continued and rigorous search for the best means for communicating reality. Rather than painting a man ageless and frozen, Freudinstead presents one stopped along his way, captured for a moment in quiet repose. Freud抯 depiction of the realistic male seems to suggest a need for the viewer to witness the contemporary, modern, working persona in his own space, reclined on a bed, or on one ofFreud's many sofas. Man's best friend, the dog, is also seen reclining along with the subject in many of these works. WhileFreud occasionally shifted his attention to urban landscapes and created pieces in other media besides paint (principally drawing and etching), such works seem to suffer without the depth of fleshy paint employed for his figures.
One cannot speak of Freud'smales without mentioning one of his favorite subjects, Leigh Bowery. The two met at London Anthony d ffay Gallery during a 1990 show that featured the offensive performance artist Bowery; Freud began painting Bowery portrait soon thereafter. "I found him perfectly beautiful," said Freud later. Bowery posed for Freud dozens of times over nearly four years, showing an exquisite largeness and a massive power contained within the male form. Bernard writes of the first collaboration between Boweryand Freud (Leigh Bowery Seated, 1990): "Bowery, posing as a huge, insouciant Lord of Misrule, lounges provocatively on his unworthily neat little throne, and seems to be questioning the artist about his conduct of the whole enterprise, while Freud refuses to be daunted by his not entirely mock-imperious sitter." Their relationship brought for Bowerythe ironical sense of immortality he always desired. WhenBowery died of AIDS in 1994, Freud's work seemed to slow.
The artist, still living and now working in his studio in Holland Park, London, has had several major retrospectives around the world. And just as his patronymic seems to be cited in almost all current essays on cultural criticism, Lucian Freud's own work commands an enormous amount of attention and respect. He is at once considered the greatest and the only Realist painter of the twentieth century, melding the necessity of human information with the subjectivist layers of human feeling.
Lucian Freud has died, aged 88 on 21st July 2011.
In a statement, New York-based gallery owner William Acquavella said that Freudpassed away at home in London (Holland Park) after an illness but gave no further details.
Read More