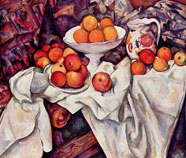 Paul Cézanne was a French artist and Post-Impressionist painter who is with Gauguin and Van Gogh the greatest of the Post-Impressionists. His work laid the foundations of the transition from the 19th century conception of artistic endeavor to a new and radically different world of art in the 20th century.
Paul Cezanne was Born on January 19, 1839, in Aix-en-Provence. His father, Philippe Auguste, was the cofounder of a banking firm that prospered throughout the artist's life, affording him financial security that was unavailable to most of his contemporaries and eventually resulting in a large inheritance. In 1852 Paul Cézanne entered the Collège Bourbon, where he met and became friends with émile Zola. This friendship was decisive for both men: with youthful romanticism they envisioned successful careers in the Paris art world, Cézanne as a painter and Zola as a writer. Consequently, Cézanne began to study painting and drawing at the école des Beaux-Arts in Aix in 1856. His father opposed the pursuit of an artistic career, and in 1858 he persuaded Cézanne to enter law school at the University of Aix. Although Cézanne continued his law studies for several years, he was simultaneously enrolled in the School of Design in Aix, where he remained until 1861.
In his career, he became interested in working from direct observation and gradually developed a light, airy painting style that was to influence the Impressionists enormously. In Cézanne's mature work we see the development of a solidified, almost architectural style of painting. His often repetitive, sensitive and exploratory brushstrokes are highly characteristic and clearly recognizable. Using planes of color and small brushstrokes that build up to form complex fields, at once both a direct expression of the sensations of the observing eye and an abstraction from observed nature, Cézanne's paintings convey intense study of his subjects, a searching gaze and a dogged struggle to deal with the complexity of human visual perception. His statement "I want to make of impressionism something solid and lasting like the art in the museums.
Cezanne's paintings were shown in the first exhibition of the Salon des Refusés in 1863, which displayed works not accepted by the jury of the official Paris Salon. The Salon rejected Cézanne's submissions every year from 1864 to 1869. Cézanne continued to submit works to the Salon until 1882. Through the intervention of fellow artist Antoine Guillemet, Cézanne exhibited The Portrait of the Artist's Father, 1866 (National Gallery, Washington), his first and last successful submission to the Salon.
Before 1895 Cézanne exhibited twice with the Impressionists (at the first Impressionist exhibition in 1874 and the third Impressionist exhibition in 1877). In later years a few individual paintings were shown at various venues, until 1895, when the Parisian dealer, Ambroise Vollard, gave the artist his first solo exhibition. Despite the increasing public recognition and financial success, Cézanne chose to work in increasing artistic isolation, usually painting in the south of France, in his beloved Provence, far from Paris.
Read More