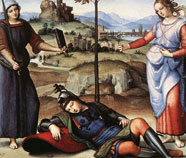 Raphael Sanzio usually called Raffaello, was an Italian master painter and architect of the Florentine school in High Renaissance, celebrated for the perfection and grace of his paintings. He was born in Urbino to Giovanni Sanzio, a poet and painter in the court of Guidobaldo Montefeltro, Duke of Urbino. With his father's connections, Raphael Sanzio would have spent his early life in or near the Urbino court where he would have learned much about courtly life, power and influence.
His father, Giovanni Santi, was also a painter in the court of Urbino. His mother and father died soon. Having been orphaned at eleven, Raphael was entrusted to his uncle Bartolomeo, a priest. Raphael had already shown talent. He managed his father's workshop, and probably together with his stepmother, Raphael evidently played a part in managing it from a very early age. In Urbino he came into contact with the works of Paolo Uccello and Luca Signorelli. His father probably placed him in Umbrian master Pietro Perugino's workshop as an apprentice. The subsequent influence of Perugino on Raphael's early work is most obvious. His first documented work was an altarpiece for the church of San Nicola of Tolentino in Città di Castello. In the following years he painted works for other churches there.
He moved to Florence at the age of 20, where he was exposed to Leonardo da Vinci, "whom he never ceased to admire as a mentor and father figure", and to Michelangelo. Raphael learned from both men, but while he made use of their exploration of human anatomy, he added sentiment to his paintings. Raphael's time in Florence was very productive. Raphael's paintings were under "a strong Da Vinci influence with its pyramidal composition, contour, balance and interplay of light and dark (chiaroscuro) and sfumato (extremely fine, soft shading instead of line to delineate forms and features)," while others reveal a 'Michelangelo' inspiration.
Some of the most renowned works of this period stem from his friendship with the rich Senese banker Agostino Chigi, who commissioned his beautiful fresco of Galatea in his Villa Farnesina and the Sibyls in the church of Santa Maria della Pace, along with the design and the decoration of the Chigi Chapel in the church of Santa Maria del Popolo (1513). This first architectural work earned Raphael the seat of architect of the new Saint Peter's Basilica (the construction of which began in 1506), left vacant by Bramante's death in 1514. Raphael changed the plan of the work from a Greek to a longitudinal design, but the project was again modified after his death. Two years later he drew the lines of the important Villa Madama in Rome. In 1515 he was also named as a sort of supervisor for Roman archaeology research, drawing up an archaeological map of the city.
Raphael's prestige gave his works a role in the creation and strengthening of political alliances, as in the cases of the works now in the Louvre, which were sent to the French court, and in the Portrait of Lorenzo de Medici for the Florentine party.
Raphael never married, even though in 1514 he was betrothed to Maria Bibbiena, niece of a cardinal, but the engagement was ended by her premature death. According to legend his greatest love was one "Fornarina" ("the little baker"), but her existence is unconfirmed. According to Vasari, Raphael's premature death was due to the "excesses of love".
In his last years (1518-1520) the intervention of the workshop in Raphael's works became more significant, as can been seen in works like Sicilia's Spasimo for a church of Palermo and the Visitation now housed in the Prado of Madrid. Also, the decoration of the Constantine's Room in the Vatican was executed entirely by his pupils based on the master's drawings. His last autograph pictures are the Double portrait of the Louvre, the small but monumental Ezechiel's Vision and the Transfiguration.
Raphael's sudden death in Rome on his 37th birthday (reportedly just weeks before Leo was to invest him as a cardinal) was deeply lamented by all who recognized his greatness. His body lay in state in one of the rooms which demonstrated his genius, and he was honoured with a public funeral. The Transfiguration was carried before him in the funeral procession. He was interred in the Pantheon, Italy's most honored burial place.
Read More