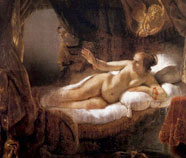 Rembrandt van Rijn is usually regarded as the greatest artist of Holland's "Golden Age." was a Dutch painter and etcher of Baroque Era. He is generally considered one of the greatest painters and printmakers in European art history and the most important in Dutch history. He worked in a period that historians call the Dutch Golden Age.
Rembrandt Harmenszoon van Rijn was born 1606 in Leiden, the Netherlands. He was the fourth of 6 surviving children out of 10. His family was quite well-to-do. His father was a miller and his mother was a baker's daughter. After a brief but important apprenticeship with the famous painter Pieter Lastman in Amsterdam, Rembrandt opened a studio in Leiden. In 1627, Rembrandt began to accept students.
In late 1631, moving permanently to Amsterdam, Rembrandt established his studio in the art dealer Hendrick van Uylenburgh's premises. Their joint business venture capitalized on the growing market for portraits and history paintings by Dutch artists. Rembrandt immediately became the most prominent painter of portraits, introducing greater subtlety, presence and animation to the genre, as well as innovative group portraits. Many students came to the van Uylenburgh "academy" to be trained in Rembrandt's manner of painting, including Jacob Backer, Govaert Flinck and Ferdinand Bol. In 1634 Rembrandt married van Uylenburgh's niece, Saskia van Uylenburgh.
In the late 1630s, he produced a few paintings and many etchings of landscapes. Often these landscapes highlighted natural drama, featuring uprooted trees and ominous skies. From 1640 his work became less exuberant and more sober in tone, reflecting personal tragedy. Biblical scenes were now derived more often from the New Testament than the Old Testament, as had been the case before. Paintings became smaller again. An exception is the huge "The Night Watch", his largest work, as worldly and spirited as any previous painting. Landscapes were more often etched than painted. The dark forces of nature made way for quiet Dutch rural scenes. Rembrandt successfully controlled the availability of his own etched and engraved works, actively working to create market demand for them. In 1642, Saskia, in ill health following the birth and death of three children, died, leaving Rembrandt with their sole issue, a son called Titus. By the late 1640s, declining portrait commissions and disastrous speculative investments created financial strain on the artist. Following the bitter end to his relationship with Titus's nurse, Geertje Dircks, Hendrickje Stoffels entered Rembrandt's household in 1647 and became his lifelong companion.
The powers of invention and perception that made Rembrandt a famous painter in his own time also made him a virtuoso draftsman (as is evident in works as different as The Last Supper after Leonardo da Vinci and Cottage among Trees and the most innovative printmaker of the seventeenth century. In about 350 etchings, he extended the medium's capacity to suggest various kinds of illumination and painterly effects. Some examples, like The Three Crosses of 1653, were radically revised in design and expression between different states.
Rembrandt inspired numerous seventeenth-century Dutch and German painters, as well as eighteenth-century artists throughout Europe (for example, Fragonard and Tiepolo) and a broad range of nineteenth-century realists. Many imitations were made in later periods, but the great majority of Rembrandtesque paintings that are not by the master date from his lifetime and suggest that his approach appealed to a fairly large audience, especially in Amsterdam.
Read More