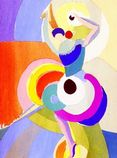 Sonia Delaunay was a true Renaissance woman of many talents and aspirations. Although she found incredible successes in her life as a wife, mother, socialite, businesswoman and artist, she often lived in the shadow of her husband, Robert Delaunay. It was only decades after her husband's death that Sonia Delaunay acquired the attention and appreciation that she fully deserved. As a vanguard of the modern female artist movement, Sonia exerted an influence upon the world of art and culture that remains unforgettable and momentous.
Sonia Delaunay was born Sophie Stern on November 14 1885 in Gradzihsk, Ukraine. She moved to Paris in 1905 to study art at Academie de la Palette. Along with her husband Robert Delaunay and others she cofounded the Orphism art movement, best known for its use of geometric shapes and eye-catching colours. Her love of collage inspired Delaunay to combine her skills in fine art with applied arts to experiment with texture and colour combinations in fabric designs. Delaunay began this experimentation in 1913 but it was the Russian Revolution of 1917 which forced her into the apparel business. To support her family, Delaunay opened a boutique "Casa Sonia", in Madrid, Spain where her family had been living during the First World War. Creating and selling clothing and accessories became Sonia's life and she became well known for her unusual motifs and colours which enveloped the body, it was said that her clothing became a moving painting. In 1921 she returned to Paris after having closed her boutique to design for private clients as well as couturiers such as Jacques Doucet, Gabrielle Bonheur "Coco" Chanel and Jacques Heim. Over these years she experimented with textiles, embroidery and designing with wool which led onto her swimsuit creations which have became well known and loved as influential 20th century Modernist design.
Of her fifty swimsuit designs, Delaunay would describe her fabrics as having: "relationships of colour using pure geometrical forms with rhythm. They were, and remain, colour scales - really a purified version of our concept of painting. (...) This shows the extent to which she was truly inspired by her fine artwork. In 1964, the Louvre staged a retrospective exhibition of Sonia's work, making her the first living woman to be honoured so highly. In 1975, she became an officer of the French Legion of Honor. These accolades were not only for textile design but for her contribution to the fine art world and her outstanding work in theatre design. A more recent display of Sonia Delaunay's work was in The Victoria and Albert museum's exhibition "Modernism: Designing a new world" (2006) which focused in on the key defining movement of 20th century design, Sonia being one of the pioneers " one of the great dames of Modernism".
Sonia's startlingly designed (and startlingly uncomfortable) knitted wool swimsuit (above, from 1928) helped bring in a new age of fashion in the 20th century which linked to the latest art movements. With such designs she got rid of the line between fashion and fine art and by raising the previously disregarded area of textiles to the level of fine art she paved the way for future designers and artists. The knitted wool swimsuit was weaved using wool jersey in 1928 in Delaunay's textile workshop, Paris "L'atelier Simultane". It was made to a standard size to go along with the other 49 designs. They were not mass produced but were merely one offs to be shown as works of art. This swimsuit was revolutionary for its time and Sonia Delaunay was helping to push for the emancipation of women.
Read More