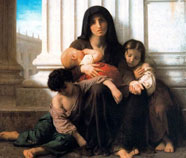 William-Adolphe Bouguereau was born in La Rochelle, France. He was a student at the École des Beaux-Arts in Paris and had a long, successful career as an academic painter.
He was exhibiting his realistic genre paintings and mythological themes in the annual exhibitions of the Paris Salons for more than 50 years, for his entire working life. He won the Prix de Rome in 1850.
Bouguereau painted eight hundred and twenty-six paintings in his lifetime. Considering his consummate level of skill and craft, and the fact that the great preponderance of his works is life-size, it is one of the largest bodies of work ever produced by any artist. Add to that the fact that fully half of these paintings are great masterpieces, and we have the picture of an artist who belongs like Michelangelo, Rembrandt and Caravaggio, in the top ranks of only a handful of masters in the entire history of western art. Bouguereau''s works were eagerly bought, at high prices, especially by American millionaires.
In his own time, Bouguereau was considered to be one of the greatest painters in the world. In 1900, his contemporaries Degas and Monet reportedly named him as most likely to be remembered as one of the greatest 19th-century painter. He was excellent painter of the human figure and his figures come to life capturing the tender and subtlest nuances of personality and mood. Bouguereau caught the very souls and spirits of his subjects much like Rembrandt who is said to have captured the soul of age.
His fate was to be much like that of Rembrandt, whose work was also ridiculed and banished from museums and official art circles for the hundred years following his death. Rembrandt''s reputation wasn''t resuscitated until the 1790''s (he died in 1669).
His paintings of religious, mythological, and genre subjects were carefully composed and painstakingly finished. Thus he opposed the admission of works by the impressionists to the Salon, because he believed that their paintings were no more than unfinished sketches. He fell into disregard in the early 20th century and his reputation and accomplishments have undergone a dishonest and relentless assault. His name and his work were degraded.
After a period of neglect following his death, Bouguereau''s paintings were returned to view as part of a renewed interest in and reappraisal of academic painting and of Ecole des Beaux-Arts works in general. Today, over one hundred museums throughout the world exhibit his works.
Near the end of his life he described his love of his art: "Each day I go to my studio full of joy; in the evening when obliged to stop because of darkness I can scarcely wait for the next morning to come…if I cannot give myself to my dear painting I am miserable". He painted 826 paintings.In the spring of 1905, Bouguereau''s house and studio in Paris were burgled. On August 19, 1905, Bouguereau died in La Rochelle at the age of 79 from heart disease.
Read More