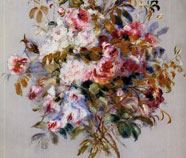 Impressionism is a movement in French painting, sometimes called optical realism because of its almost scientific interest in the actual visual experience and effect of light and movement on appearance of objects.
Impressionist motto - human eye is a marvelous instrument. Impact worldwide was lasting and huge. The name 'Impressionists' came as artists embraced the nickname a conservative critic used to ridicule the whole movement. Painting 'Impression: Sunrise' by Claude Monet fathered derogatory referral. Impressionist fascination with light and movement was at the core of their art. Exposure to light and/or movement was enough to create a justifiable and fit artistic subject out of literally anything. Impressionists learned how to transcribe directly their visual sensations of nature, unconcerned with the actual depiction of physical objects in front of them. Two ideas of Impressionists are expressed here. One is that a quickly painted oil sketch most accurately records a landscape's general appearance. The second idea that art benefits from a vision untainted by intellectual preconceptions was a part of both the naturalist and the realist traditions, from which their work evolved.
Neo-Impressionism (after 1880)
Neo-Impressionism outgrew the Impressionism. Many Impressionists in the years after 1880 began to reconsider their earlier approaches or make important adjustments to them. What many of them found objectionable in their earlier art was not its truth value but its lack of permanence. Despite the fundamental similarity of conception, later works differ from earlier works in two fundamental respects. The elements, especially the figures, are more solidly and conventionally defined, and composition is more conservative. They moved far from her early commitment to depicting only contemporary moments. This pattern of rejection and reform was originated by Georges-Pierre Seurat, who made use of a technique called pointillism (known as confettiism). This new technique is based on the skillful putting side by side touches of pure color. The brain then blends the colors automatically in the involuntary process of optical mixing. Other neo-impressionists include Camille Pissarro, Paul Signac, Theodoor van Rysselberghe, and Henry Edmond Cross.
Read More