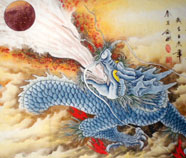 Dragon is deeply rooted in Chinese culture as the supreme auspicious being. And the Chinese in the world often regard themselves as "the descendants of the dragon".
Auspicious &Fengshui Meaning
Chinese Dragon Painting: In the ancient China, dragon was the symbol of imperial power and represent the emperor. Nowadays, dragon can no longer represent imperial power; however, it is still believed that it can bring people good luck. Meanwhile, it symbolizes power, nobility, and fortune.