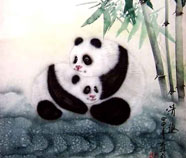 The giant panda is a rare animal in China that represents friendship and peace, whilst stands for joy and harmony.
Black and white pandas are wide beloved by many people for its lovely appearances and motions. So panda painting gradually become a good topic drawed by comtemporary Chinese painting artists.
Auspicious &Fengshui Meaning
In ancient times, the giant panda, on the one hand, was regarded as the strong beast, juxtaposing with tiger and leopard, and a honorary title for warrior; on the other hand, it was considered as the symbol of peace, indicating truce.