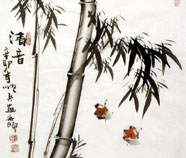 Bamboo is one of the most popular subjects found in Chinese painting. The noble bamboo is a symbol of old age and modesty. The bamboo grows in dense groves and symbolize resilience and integrity because it bends in the strong wind but return to their upright position. Delicate in appearance yet known for its strength, its slender stems and lush covering of delicate leaves represents durability and vigor. Unknown to many, bamboo is a grass and not a tree. Together bamboo and plum trees represent man and wife.
The Chinese often compare bamboo to gentleman for its unique character of being neither cringing nor arrogant. Furthermore, bamboo painting is symbolic of self-effacing, integrity, and safety. Along with the pine and the plum, the bamboo is a member of the "Three Friends of Winter (歲寒三友)." It is also one of the "Four Gentlemen (四君子)", together with the plum, the orchid, and the chrysanthemum.
Chinese Bamboo Fengshui Painting: 节节高升. For the tall and straight bamboo and its joints, people also present bamboo painting to express good wishes of being promoted to a higher position or rank successively.
Chinese Pines, Plum Blossoms and Bamboo Painting: 岁寒三友. Plum blossom (blooming in the snow), pine (evergreen) and bamboo (never withering in the winter). They are three good friends resisting cold weather together. Chinese ancient scholars often used these "three friends" to express the noble characters of strength, purity, resilience, and the ability to overcome adversity, while the folk people regarded their characters of evergreen and never withering in the winter as an auspicious symbol of the exuberant vitality.
Chinese Fengshui Bamboo, Plum blossoms and Two Magpies Painting: 竹梅双喜. The association of happiness at the coming of spring with the blossoming plum, bamboo, and two magpies, become a popular coupling symbolizing double happiness. When bamboo and plum tree are depicted together, the message means a friendship formed in childhood -- said of boys and girls. The two magpies representing they tie the knot and their marriage fill with the entire good thing.
Chinese Bamboo and Peony Painting: 富贵平安. It means wealth, rank (the peony) and safety (the bamboo).
Read More