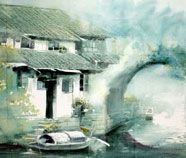 Chinese Water Township Painting can be divided into two main types: Jiangnan (regions south of the Yangtze River) water townships and Lingnan (south of the Five Ridges) water townships. Such as Suzhou and Hangzhou has the most typical Jiangnan water township, and Lingnan water township mostly is locate in the regions is of an abundance of water area.
Auspicious &Fengshui Meaning
Chinese Jiangnan Water Township Painting: (江南水乡) The size and layout of folk houses of Jiangnan water township are quite distinctive. The sculptured ornament of Jiangnan folk houses has many varieties, but seldom using colorized pattern. The wall is whitewashed and the roof of the house is of grey tiles. Timbers for building houses are brownish black or brownish red, etc. Therefore, these ancient residential houses are quietly elegant. Owing to costly land resources, people try to make the best use of the inside and outside space of house. Almost every family built a small pier outdoors because they live close by the river or lake. Housewife come to pier to wash rice, vegetables and clothes every day, and small boat come and go also can berth in here. Compare with the waterway, the alley seems very narrow, some of it only can allow one person and one water buffalo to walk together. Winding alleys, tall courtyard walls, it really makes people feel that the path will lead them to a secluded quiet place.
Read More