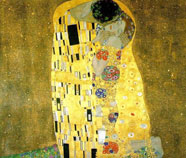 Gustav Klimt was an Austrian Symbolist painter and one of the most prominent members of the Vienna Secession movement. Klimt's primary subject was the female body, whether formal portraits or indolent nudes invariably display highly sensitized eroticism of the fin de siècle elegance. Art historians note an eclectic range of influences contributing to Klimt's distinct style, including Egyptian, Minoan, Classical Greek, and Byzantine inspirations.
Klimt's work had a strong influence on the paintings of Egon Schiele, whom he would collaborate with, to found the Kunsthalle (Hall of Art) in 1917, to try and keep local artists from going from Austria.
Klimt was born in Baumgarten, near Vienna, Austria. Gustav was enrolled, at 14, in the Vienna School of Arts and Crafts, and received training as an architectural decorator. Hebegan his professional career painting interior murals in large public buildings on the Ringstra?e. In 1888 he received the Golden order of Merit from Emperor Franz Josef I of Austria for his contributions to art. He also became an honorary member of the University of Munich and the University of Vienna.
Klimt was one of the founding members and president of the Wiener Sezession (Vienna Secession), and of the group's periodical Ver Sacrum. He remained with the Secession until 1908.
On his annual summer holidays with the Fl?ge family on the shores of Attersee he painted many of his landscapes. These works constitute the only genre aside from the figure paintings. They are numerous and of quality, so as to merit a separate appreciation. Formally, the landscapes are characterized by the same refinement of design and emphatic patterning as the figural pieces. Deep space in these works is so efficiently flattened to a single plane, so it is believed that Klimt used a telescope.
In 1894, Klimt was commissioned to create three paintings to decorate the ceiling of the Great Hall in the University of Vienna: Philosophy, Medicine, and Jurisprudence. They were criticized for their radical themes and 'pornographic' material. As a result, they were not displayed on the ceiling of the Great Hall. This would be the last public commission accepted by the artist. All three paintings were eventually destroyed by retreating SS forces in May 1945.
Gustav Klimt's 'Golden Phase' was marked by positive critical reaction and success. Many of his paintings from this period utilized gold leaf; the prominent use of gold can first be traced back to "Pallas Athene" and "Judith I ", although the works most popularly associated with this period are the "Portrait of Adele Bloch-Bauer I" and "The Kiss ".
In 1911 his painting Death and Life received first prize in the world exhibitions in Rome. Gustav Klimt died in Vienna in 1918. Numerous paintings were left unfinished.
Read More