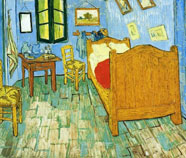 Vincent van Gogh was a Dutch Post-Impressionist artist. He is generally considered as the greatest Dutch painter after Rembrandt, though he had little success during his lifetime. Van Gogh produced all of his work (some 900 paintings and 1100 drawings) during a period of only 10 years before he succumbed to mental illness (possibly bipolar disorder) and committed suicide. His paintings and drawings include some of the world's best known, most popular and most expensive piece. Expressive luminosity of color and blotchy brushwork are Vincent van Gogh's distinguishing characteristics which made him the model of expressionist painters at the turn of the century.
Vincent Willem van Gogh was born in 1853. He was the son of Anna Cornelia Carbentus and Theodorus van Gogh, a minister of the Dutch Reformed Church. He was given the same name as his grandfather-and a first brother stillborn exactly one year before. Art and religion were the two occupations to which the Van Gogh family gravitated. Vincent van Gogh originally planned to study theology.
Van Gogh spent his early life working for a firm of art dealers. After a brief spell as a teacher, he became a missionary worker in a very poor mining region. He did not embark upon a career as an artist until 1880. Professional and personal failure led him to painting, in which he saw a way of giving expression to mental and emotional tension. The central figure in Vincent van Gogh's life was his brother Theo, who continually and selflessly provided financial support. Their lifelong friendship is documented in numerous letters they exchanged from August 1872 onwards.
Initially, van Gogh worked only with somber colors, until he encountered Impressionism and Neo-Impressionism in Paris. Although his own painting style was primarily developed autodidactically, he incorporated impressionistic brighter colors and their style of painting into his, uniquely recognizable style. It was fully developed after he settled in Arles, and this stay in Provence. It is seen as the zenith of his creative work.
He produced more than 2,000 works, including around 900 paintings and 1,100 drawings and sketches, during the last ten years of his life. Most of his best-known works were produced in the final two years of his life, during which time he cut off part of his left ear following a breakdown in his friendship with Paul Gauguin. At the end of 1888 van Gogh's mental illness worsened and in one outburst he pursued Gauguin with a knife, threatening him. Later that day, van Gogh cut off part of his own ear then offered it to a prostitute as a gift. He was temporarily hospitalized and Gauguin left the home they shared, ending van Goghs dream of setting up an art school.
Van Gogh committed himself to an asylum in Saint-Rémy-de-Provence later that year and there he painted Starry Night, one of historys most influential artworks. He left the asylum in 1890 and in July of that year attempted suicide by shooting himself in the chest. He died two days later from the wound aged 37.Van Goghs closest brother, Theo died just six months later and his widow published van Goghs work, gaining his the recognition he longed for.
By the time of his death, Van Gogh's work had begun to attract critical attention. His paintings were featured at the Salon des Indépendants in Paris between 1888 and 1890. As Gauguin wrote to him, his recent works, on view at the Independents in Paris, were regarded by many artists as "the most striking" in the show; and one of his paintings sold from the 1890 exhibition in Brussels. In January 1890, the critic Albert Aurier published the first full-length article on Van Gogh, aligning his art with the nascent Symbolist movement and highlighting the originality and intensity of his artistic vision. By the outbreak of World War I, with the discovery of his genius by the Fauves and German Expressionists, Vincent van Gogh had already come to be regarded as a vanguard figure in the history of modern art.
Read More