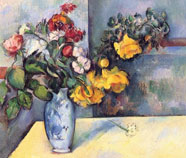 All great artists begin with the still life subject. It is their process of recreating the items that make the work special. Though still life oil painting is simple, it needs strong painting skills.
Enjoy the look of fresh fruit in your kitchen or dining room without ever going to the grocery store. Or, love the beauty of fresh cut flowers in your living room or bed room without the worry of allergies or lost pedals.
Still life paintings are done on canvas with brilliant oils. There is a certain calmness to still life paintings that makes them the perfect wall decor piece for any room. Fruit and wine sets complement any bistro or cafe business as well. Noted still life painters include Paul Cezanne and Henri Matisse.