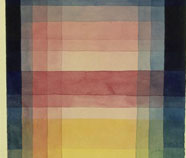 Abstract art is an art form based on non-realistic portrayals, rather than visually accurate depictions of objects or scenes. Popularized in the 20th century, abstract art has become iconic, including the works of such renowned artists as Jackson Pollock and Piet Mondrian. Much of the work of abstract artists and painters is based on the concept that shape, color and texture have inherent value in their own rights, and can provoke a response even when used to create unidentifiable or non-realistic work.
The movement toward abstract art grew from the impressionism and post-impressionism periods of the 19th century, when color and style became more important than accurate depiction. Painters like Monet, Seurat and Cezanne are often cited as influences on the movement, as they chose to emphasize the inherent artistic point of view that is involved in creating a work of art, as well as in the work itself.
Interestingly, abstract art as a valid form seemed to spring up simultaneously around the Western world in the first decades of the 20th century, leading to considerable debate regarding who was the first truly abstract artist. Because the form is so variable in technique and medium, classification as to semi-abstract and fully abstract works is often confusing and misleading. The form encompasses several different styles, including cubism, neo-impressionism, and orphism.
Read More