The word and the genre impressionism is originated from Claude Monet's (1840—1926) masterpiece Impression, Soleil Levant( Impression Sunrise ). Critics at that time says their works are more of just an impression, but not images.
But why must all the paintings be images? Monet and other artists take critics words and began to call themselves impressionists. They love to capture the moments lights and shadows change, they use brand new ways to paint, they use the brightest colors to paint. They show us the world in a very different way, the magnificent sunrise over the sea, the busy and crowded streets and the flowery fields. They take us far afield from wars and sufferings, they praise the beauty of nature passionately and show us the truth of life.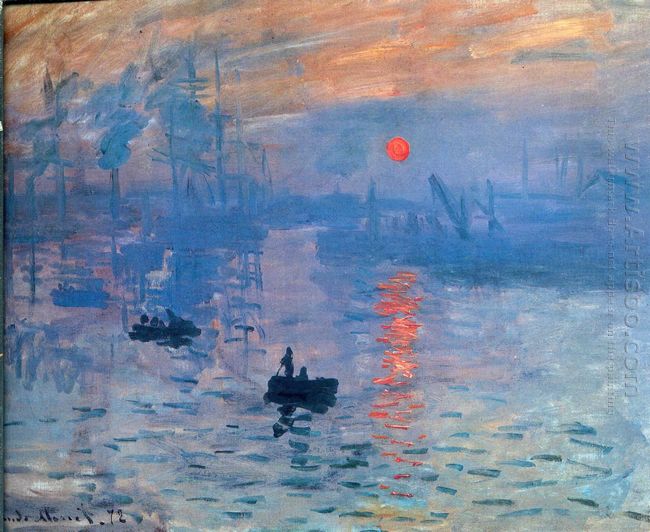 Impression Sunrise( Impression, Soleil Levant)
Early morning at Port of Le Havre, all the buildings on the shore, the cranes and the vessels are in the morning fog. All of a sudden, the sun jumps out of the sea level and rises up slowly. Rays of sunlight break through the thick fog, color the sky rich and clinking. The sea surface reflects all the colors which are swept by the vessels to become patches of red, purple, orange and yellow.
This is the scene in Monet's Impression, Soleil Levant. He was only 34 when he finish it. The painter spent his childhood in Le Havre, the city in North France. He loves to explore new ways of drawing techniques and is not willing to trapped by the dogma, which lead to the reforms and innovations in his works. Monet is considered to be one of the most important founders of impressionism.