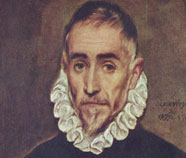 El Greco was a painter, sculptor, and architect of the Spanish Renaissance. He usually signed his paintings in Greek letters with his full name, Doménicos Theotokópoulos, underscoring his Greek birth.
El Greco was born in Crete, during the time it was part of the Republic of Venice and a hub of Post-Byzantine art. He became a master in this art form before following in the footsteps of other Greek artists and travelling to Venice to further his studies.Moving on to Rome, El Greco opened a workshop and spent a great deal of time developing his style, adopting elements of both Mannerism and the Venetian Renaissance.However, it was after relocating to Toledo, Spain that El Greco truly blossomed. There he received several major commissions and produced his best known paintings.
The artist gained notoriety for his highly expressive and visionary religious works and rarely ventured away from this genre. When he did, however, he created compelling portraits, landscape paintings, mythological works and sculptures.Those produced during his later years are particularly notable for their undulating forms, epic scale and expressive distortions.
El Greco regarded color as the most important element of painting, and declared that it had primacy over form. In his mature works he tended to dramatize rather than describe and the strong spiritual emotion of his works directly affects the audience.
El Greco's dramatic and expressionistic style was met with puzzlement by his contemporaries but found appreciation in the 20th century. He is regarded as a precursor of both Expressionism and Cubism, while his personality and works were a source of inspiration for poets and writers such as Rainer Maria Rilke and Nikos Kazantzakis. El Greco has been characterized by modern scholars as an artist so individual that he belongs to no conventional school. He is best known for tortuously elongated figures and often fantastic or phantasmagorical pigmentation, marrying Byzantine traditions with those of Western painting.
El Greco was born in Crete, which was at that time part of the Republic of Venice, and the centre of Post-Byzantine art. El Greco was descended from a prosperous urban family. El Greco's father, Geórgios Theotocópoulos, was a merchant and tax collector. The Theotocópoulos family was Greek Orthodox. El Greco apparently transferred to Catholicism after his arrival to the West, and was certainly Catholic in Spain, where he described himself as a "devout Catholic" in his will.
El Greco received his initial training as an icon painter of the Cretan school, the leading centre of post-Byzantine art. He trained and became a master within Orthodox tradition before traveling at 26 to Venice, as other Greek artists had done.
In 1563, at the age of twenty-two, El Greco was described in a document as a "master" of the guild. Unlike other Cretan artists in Venice, El Greco substantially altered his style by inventing new and unusual interpretations of traditional religious subject matter. His works painted in Italy were influenced by the Venetian Renaissance style of the period, with agile, elongated figures reminiscent of Tintoretto and a chromatic framework that connects him to Titian. In 1570 he moved to Rome, where he opened a workshop and executed a series of works.
In 1577, El Greco emigrated first to Madrid, then to Toledo, where he lived and worked until his death 1614. In Toledo, El Greco received several major commissions and produced his mature works. At the time, Toledo was the religious capital of Spain. He did not plan to settle permanently in Toledo, since his final aim was to win the favor of Philip II of Spain and make his mark in his court. Indeed, he did manage to secure two important commissions from the monarch: "Allegory of the Holy League" and "Martyrdrom of St. Maurice". However, the king did not like these works and placed the St Maurice altarpiece in the chapter-house rather than the intended chapel. He gave no further commissions to El Greco.
It's believed that from 1585 onwards El Greco lived in a plush complex belonging to the Marquis de Villena, where he also housed his workshop. He spent his last years living comfortably and continued to study.
It's possible that the artist lived with his Spanish female companion, Jerónima de Las Cuevas, although this has not been confirmed. The couple did, however, have a son together (the artist's only child) named Jorge Manuel who followed in his father's footsteps and became a painter.While working on a commission for the Hospital Tavera El Greco fell seriously ill and passed away on April 7, 1614.
Read More