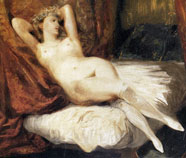 The Delacroix name was widely known in France, but although his father was one of the ambassadors in the French revolution, Eugene Delacroix has surpassed his father with fame by creating many different masterpieces that are sold to this day in many different forms. The Eugene Delacroix Paintings have remained popular over the years, and have actually gained popularity all over the world, rather than simply in France, because of the variety of different romantic themes that are portrayed through the drafts and paintings of Delacroix. As Delacroix grew in fame, so did his opportunity to create his own style and use his own colors, setting his paintings apart from any of the others that were released in the same time period. This created a large name for the Eugene Delacroix Paintings, and allowed the widespread reproduction of these canvases to occur, which still happens to this very day.
Delacroix is a much more recent painter than many others of his caliber, as he began training to paint under Pierre-Narcissa Guerin in 1815, which he learned much from about the neoclassical style. Under Guerin, Delacroix began to create his own interpretation of the styles that were taught to him, and this apprenticeship allowed him to move into working with his own subjects and utilizing his own techniques while still holding true to the key elements of this art style. The first painting that gained widespread game is known as the Barque of Dante, which is still one of the most famous Eugene Delacroix Paintings. This painting was first showcased in the Paris Salon in 1822, and began to create a name for Delacroix that was separate from Guerin, allowing him to continue painting along with the support of many other fans of his work.
Two years after this painting was showcased, the Eugene Delacroix Paintings named Massacre at Chios was released, which was once again met with both opposition and much praise, as the art style that was used came directly from Delacroix's own palette of colors. As the years passed, his art style continued evolving, and many more paintings were released. The Eugene Delacroix Paintings continued to flow until he died, but will never be forgotten, as this was an incredibly influential period of time which shaped the future of painting forever. Artistry will always remember the Eugene Delacroix Paintings, and you can own a little piece of this history in your own home.
Read More