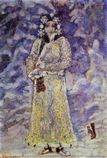 Mikhail Aleksandrovich Vrubel is a Russian artist of remarkable talent and an unusual outlook on life. His paintings were produced in alternately hostile and sympathetic atmosphere. In his lifetime, he knew both praise and disdain, the spectator opinions ranging from ild ugliness to ascinating symphonies of a genius. Gradually, however, Vrubel painting came to be viewed as an integral part of Russian culture. Some scholars were inclined to relate his painting directly to the Early Renaissance or Late Byzantine art and looked upon Vrubel as a proud artistic individual who held aloof from contemporary trends
Mikhail Aleksandrovich Vrubel, born at Omsk in Siberia, in 1856, was the son of an officer of the Russian army - Alexander Vrubel. The family had many different ethnic roots -- Russian, Polish, Tartar and Danish. Mikhail Vrubel had an older sister Anna with whom he kept a friendly relationship until his death. His younger sister Ekaterina and brother Alexander died in childhood. This caused a deep trauma for the artist. Despite his father's rank as a colonel, the family was never prosperous. Moreover, military attitudes were not emphasized in the family; on the contrary, the parents, especially Alexander, taught the children fundamental educational skills, providing them with literature in several languages (Latin, French, German), encouraging and stimulating the children's interest in history, art, theater, music, and literature.
Mikhail Vrubel was interested in drawing from childhood. Alexander Vrubel had a positive attitude towards his son's enthusiasm for painting. Vrubel received formal painting lessons at the Society for the Encouragement of the Arts at St. Petersburg in 1864, and 1868-1869. He studied as a law student at St. Petersburg University from 1874 to 1880, but simultaneously he began to take painting classes during 1878-1879. During his study at St. Petersburg University he learned German philosophy with great enthusiasm, especially the theories of Nietzche, along with the idealist philosophers Kant and Schopenhauer.
After graduation from the Law Department, Vrubel entered the St. Petersburg Academy of Arts (one of the leading schools in Russia at that time) as a full-time student in 1880, where he studied under Pavel Chistyakov until 1884. This teacher, famous for his teaching abilities in painting and drawing, played a significant role in the development of Vrubel's style, developing in him a taste for detail. Such Russian painters as Ilya Repin, Vasilii Polenov, Victor Vasnetsov, Valentin Serov, Vasilii Surikov were also appreciative pupils of Chistyakov. The artist shared with his teacher the idea of the primary importance of drawing, modeling, form over color, and appreciation of the monumentality of classical art. Vrubel had great respect for the Art Academy and never dismissed its influence on his art as many advanced artists of the time did. In his autobiography, written in 1901, Vrubel referred to his Academy years as the happiest in his life as an artist. (See some paintings of that period)
The next step in the development of Vrubel's artistic career began in Kiev in April 1884 when he accepted an invitation from professor Adrian Prakhov to take part in the restoration work of old Russian churches in Kiev. Not incidentally during the 1884-1889 period Vrubel painted not only the commissioned religious works, but also images of Christ, the Virgin Mary, and angels for himself. Working in the twelfth century churches, trying to find unity with the style of the old frescoes, Vrubel remained a prominent artist of the late nineteenth century. In the figures of the saints and angels, in the plasticity of their forms and in the psychological importance of drawing, compositions, and color are evidence that Vrubel was closer to the modern ways of painting than to Byzantine and Old-Russian frescoes and mosaics. He was one of the first Russian artists who tried to develop a style that unified old traditions and modern sensibility, a style which became a basis for his future artistic experimentation.
The analysis of Vrubel's work done in Moscow, where he lived during the two decade period (1889-1910), shows the influence of old traditions and contemporary artistic movements -- Neo-Romanticism, Symbolism, Art Nouveau. Some of the artist's works have features similar to Neo-Primitivism, Rayonism, Futurism, Cubism which soon caught on with many painters in the Russian Avant-Garde.
Among the advanced Russian artists of the turn of the century, such as Isaac Levitan, Valentin Serov, Victor Borisov-Musatov, Vrubel stands out because of the originality of his art. Despite the absence of direct followers, the importance of Vrubel's art should not be underestimated. He pointed the way and made possible the experiments of the succeeding decades. This many-sided painter, sculptor, theater designer, draftsman, and illustrator can be considered as a transitional figure between traditional and modern art because of his influence on and inspiration for the artists of a new generation.
Read More