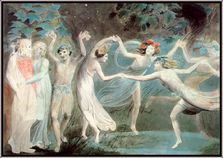 William Blake was a poet, engraver, painter, and mystic, was born and lived almost his entire life in London.
Born on 28th November 1757 in Soho in London, he had a grounded and happy upbringing. Although always a well read and intelligent man, Blake left school at the early age of ten to attend the Henry Pars Drawing Academy for five years. The artists he admired as a child included Raphael, Michelangelo, Giulio, Romano and Dürer. He started writing poetry at the age of twelve and in 1783 his friends paid for his first collection of verses to be printed, which was entitled "Poetical Sketches" and is now seen as a major poetical event of the 18th century. Despite his obvious talents as a poet, his official profession was as an engraver because he could not afford to do a painter's apprenticeship and therefore began his apprenticeship with the engraver James Basire in 1772. After completing his apprenticeship six years later, he joined the Royal Academy of Art. At this point his art and engraving remained separate – he wrote and drew for pleasure and simply engraved to earn a living. In 1784 he opened his own shop and in the same year completed "Island in the Moon", which ridiculed his contemporaries of the art and literature social circles he mixed with. Two years previous to this, he married Catherine Boucher.
Now Blake was an established engraver, he began experimenting with printing techniques and it was not long before he compiled his first illuminated book, 'Songs of Innocence' in 1788. Blake wanted to take his poetry beyond being just words on a page and felt they needed to be illustrated to create his desired effect. Shortly after he completed 'The Book of Thel' and from 1790-3, 'The Marriage of Heaven and Hell', which followed on from his significant Prophetic books. These books were a collection of writings on his philosophical ideas and although they have nothing to do with his poetry, it was a sign of his increasing awareness of the social injustices of his time, which led to the completion of his 'Songs of Experience' in 1794.
One of Blake's main influences was the society in which he lived. He lived during revolutionary times and witnessed the downfall of London during Britain's war with republican France. His disgust with society grew as he matured and 'The Songs of Innocence and Experience' depict this transition. As well as having radical religious ideas for the time (he did not believe in "religion of nature or reason, but thought man's nature was imaginative and mystical", he also had radical political ideas due to the day-to-day poverty he was forced to witness.
"Living near the end of a century, born in a period of imperialistic wars, coming to maturity during the American Revolution and to the full bloom of his genius during the French Revolution, aware of impending economic change and sick to the bone of ruling hypocrisy, he viewed the evnts of his own days as the fulfilment of prophecy…"
Read More